¿Cuáles otras regiones del mundo se involucraron?
Los Aliados esperaban apoderarse de una región del imperio otomano llamada los Dardanelos. El ataque fracasó con grandes pérdidas humanas. Una operación más exitosa fue la encabezada por el oficial británico T.E. Lawrence, quien organizó una revuelta árabe contra el gobierno otomano. Como resultado, los Aliados pudieron capturar varias ciudades importantes en el suroeste de Asia. Japón capturó colonias alemanas en China y el océano Pacífico. Los Aliados también capturaron tres de las cuatro colonias alemanas en África. Los británicos usaron sus poderosas fuerzas navales para bloquear todos los abastos a Alemania. Los alemanes respondieron aumentando sus ataques submarinos a barcos que llevaban alimentos y abastos a los Aliados. Fue una guerra submarina irrestricta. Esto significaba hundir cualquier barco sin advertencia en aguas alrededor de Gran Bretaña. Cuando hundieron barcos estadounidenses y se perdieron vidas, el pueblo estadounidense se indignó. Entonces los británicos interceptaron un mensaje secreto de Alemania a México. Este mensaje pedía a México que se aliara a Alemania. A cambio, le ofrecía ayuda para recuperar las tierras perdidas en la guerra con Estados Unidos en la década de 1840. En abril de 1917, el Congreso estadounidense declaró la guerra a Alemania.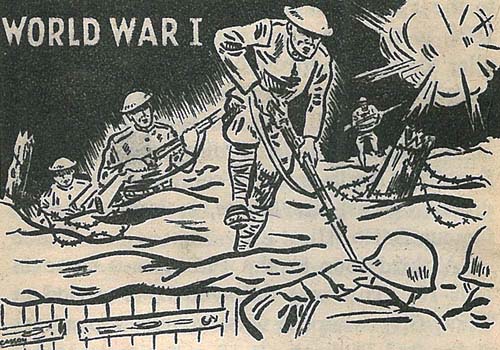 ¿Qué sucedió en los países en guerra?
Para 1917, la guerra ya había matado a millones. Cambió drásticamente la vida de otros millones de personas: tanto de la población general como soldados. Llamada la Gran Guerra, fue una guerra total. Exigió todos los recursos de los países en guerra. Los gobiernos tomaron el control de fábricas. Determinaron lo que debían producir y en qué cantidad. Además, los gobiernos impusieron el racionamiento. Esto limitó la cantidad de alimentos y otros productos. De esa manera, los ejércitos podían tener los abastos necesarios. Los gobiernos usaron propaganda para apoyar la guerra. También tomaron medidas para frenar el disentimiento, es decir, la oposición a la guerra. Con tantos hombres en el ejército, las mujeres desempeñaron papeles más importantes en las economías de los países en guerra. Trabajaron en fábricas, oficinas y tiendas. Construyeron aviones y tanques, cultivaron alimentos e hicieron ropas. Estos cambios tuvieron un impacto en las actitudes sobre el tipo de trabajo que podían hacer las mujeres.
¿Por qué ganaron los Aliados?
En 1917, Estados Unidos entró en la guerra y Rusia se salió. El zar perdió el apoyo del pueblo debido al sufrimiento experimentado por la guerra. En marzo, abdicó. El nuevo gobierno quería continuar la guerra, pero los ejércitos se negaron. Pocos meses después, estalló una revolución. Los comunistas tomaron el poder. Rápidamente firmaron un tratado con Alemania y entregaron grandes extensiones de tierras a cambio de la paz. En marzo de 1918, Alemania lanzó un ataque final. De nuevo avanzó hasta casi llegar a París. Pero los soldados estaban cansados y los abastos escaseaban. Los Aliados —ahora con tropas estadounidenses frescas— hicieron retroceder a los alemanes. Bulgaria y el imperio otomano se rindieron. En octubre, una revolución derrocó al emperador austro-húngaro. En noviembre, el káiser Guillermo II tuvo que abdicar. El nuevo gobierno firmó un armisticio: un acuerdo para suspender la guerra. El 11 de noviembre de 1918, Europa por fin alcanzó la paz.
VOCABULARIO:guerra submarina
irrestricta Uso de submarinos para hundir cualquier barco sin advertencia
unrestricted submarine
warfare Using submarines to sink any ship without warning
guerra total
Guerra en la que los países usan todos sus recursos para la guerra
total war
War in which countries use all their resources for the war
racionamiento
Control de cantidad y clase de productos disponibles
rationing
Control of the amounts and kinds of goods people can have
propaganda
Información parcial ideada para convencer
propaganda
One-sided information designed to persuade
armisticio
Acuerdo de detener la lucha
armistice
Agreement to stop fighting
TAREA, TASK:
Contesta dos preguntas en inglés y dos pregunta en español:
1. ¿Qué regiones fuera de Europa fueron afectadas por la guerra?
2. Nombra tres formas en que la guerra afectó la vida diaria.
3. ¿Cuáles fueron los problemas finales que enfrentaron Alemania y Austro-Hungría?
4. Describe the escalation of World War I.
5. Identify how governments established wartime economies.
6. Summarize how the Allies pushed to victory.